What a Difference Clean Carpets Can Make
Professional fabric and fibre cleaning services from Singapore Carpet Cleaning make it easy to refresh, restore and rejuvenate your carpeted space. Get carpet cleaning, upholstery cleaning, oriental & Persian rug cleaning and more. Professional service and competitive pricing – that's a breath of fresh air.
Why Use Singapore Carpet Cleaning Services
---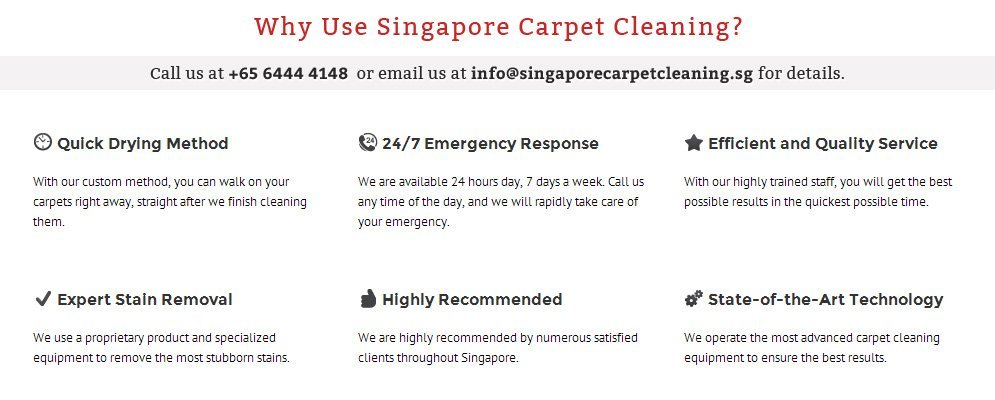 ---
Carpet cleaning for a Cleaner Environment
Rest easy knowing dirt, dust and airborne contaminants don't stand a chance with Singapore Carpet Cleaning.
Our state-of-the-art steam technology delivers customized cleaning for your wall-to-wall carpeted residential or commercial space. By applying calculated amounts of mechanical action, we ensure complete removal of harmful allergens, grime and stains, leaving your carpets restored and fresh as new.
Bring the health benefits of improved air quality to where you work, play and live. Don't you deserve it?
Professional Upholstery Cleaning
Your upholstered furniture has freshness and longevity that's just waiting to be uncovered. Make your space feel like brand new again with Singapore Carpet Cleaning.
We clean deep down to remove harmful particulate, leaving your upholstered furniture restored to its original color and as clean as the day you purchased it. And since we treat every upholstered project with individualized care, you can count on us to deliver for all your sofas, mattresses, chairs and unique furniture pieces.
More cleaning services you can count on
Our range of services has grown with experience in the industry since 1986. Get dependable, expert service for:
It's easy to get in touch with us. Simply submit your inquiries here.