Your carpets play an important role in maintaining a healthier and cleaner indoor environment.
Our Singapore carpet cleaning services range from the basic to the deep, restorative carpet cleaning method. The methods used by our experienced technicians for our clients, that include Residential & Commercial buildings, are especially suited to the Singaporean environment. Supported by state-of-the-art cleaning equipment, our technicians can clean any kind of carpet fibre to deliver amazing results to your carpet, resulting in a cleaner and healthier environment.
What are the various types of carpet cleaning services we offer?
Established in 1986, we are the largest carpet cleaning company in Singapore and the cleaning options outlined below have been designed to cater to the different types of carpets that we face in Singapore.
Carpet Cleaning Options on offer:
Preventive Carpet Maintenance Program (CAMP)
Corrective Carpet Cleaning System (CCCS)
Restorative carpet cleaning services (RCCS)
The common carpet fibres in Singapore are Nylon, Wool, Cotton and Acrylic. Each of these fibres is unique in its own way and has its own set of characteristics. As such, there is no one-fit-all standard cleaning method that can address all types of fibres. We like to look at cleaning carpets as a science where our trained technicians are 'Carpet Doctors', with the ability to look at carpets individually to determine the best cleaning method to use to achieve optimum results.
Affected by musty/mouldy carpet due to leaks or high humidity environment in Singapore?
Carpets are floor coverings that are recognized for their versatility as they provide both decorative and functional advantages to interior spaces. However, with the high level of humidity in Singapore, their surfaces are prone to collecting moisture and dampness that causes the growth of micro-organisms.
One of the ways to circumvent this is by treating your carpet with an EPA approved, 'non-leaching' anti-microbial application. This creates a hypo-allergenic environment which provides long-term protection for your carpet surfaces and reduces the growth of micro-organisms such as mold, mildew, bacteria.
Call us now to arrange your Singapore carpet cleaning schedule at your preferred date and time.
---
Our 30 Day Satisfaction Guarantee
If you are not satisfied with the service from us, we will return at no obligation and re-clean any area you feel needs additional attention. It's our 30-day, 100% Satisfaction Guarantee.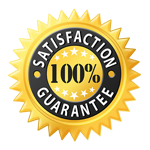 For professional carpet cleaning service,
call us now at 6444 4148!