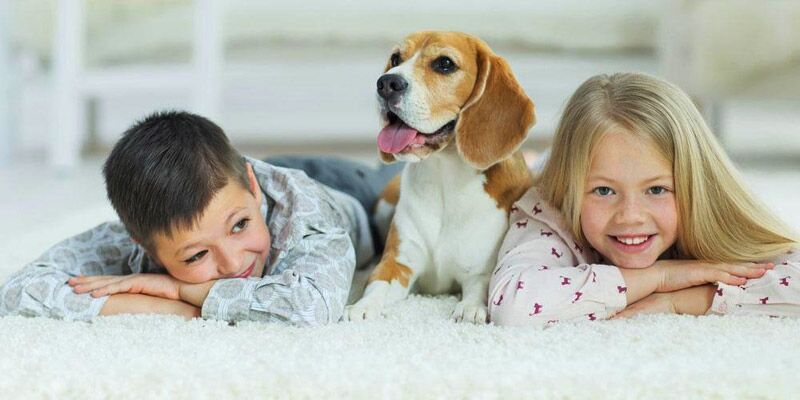 Carpets are not easy to maintain and require regular and constant care, but if you are careful with spills and accidents, maintaining a clean carpet will not be tough. Children and pets can wreak havoc on carpeting, and carpet maintenance becomes all the more difficult.
Carpets and pets do not go hand-in-hand and there will be days when you realize your well-trained dog has chosen to relieve himself in a ubiquitous corner in the living room. Getting urine odor and stain out of your carpet requires strenuous cleaning, often with less than satisfactory results.
When it comes to pets and carpet care, it is always better to be safe than sorry. There are many things you can do to prevent pet accidents and dirt buildup on carpets.
It is important you maintain and look after your furry friend well. In addition to regular bathing and brushing your dog, you will also have to keep an eye out for any pet stain appearing on your carpet and treat it immediately.
Here are the top 5 carpet cleaning tips for pet owners like you to keep your carpet clean, beautiful and pet-safe for long.
Keep the Entryway Safe
Muddy paws can track in dirt and soil carpets really quickly. Floor tiles at the entryway will provide a safe place for your pet to shake off mud and dirt. You should also make it a point to wipe your dog's paws each time he runs in from the yard. This is even more important during wet weather and winter, which are typically carpet-trashing seasons.
Your pet will not initially like it but gradually he will learn that he cannot run in from the garden without having his paws wiped clean.
A quality dirt-trapping mat at your front door will help keep indoors clean. Super-absorbent mats will trap in moisture and dirt and will help minimize the damage to indoor carpeting.
Use Reliable and Pet-Safe Carpet Cleaners
Carpet cleaning products specially formulated for removing pet stains are helpful but you need to act in time. These products work well when spills and accidents are fresh. As soon as you notice that your pet has peed on the carpet, grab some paper towels and soak up as much of the urine as possible; the same applies if you want to clean up dog poop too. As unpleasant as it may sound, it is better to get over with the cleaning part quickly. Slip-on a pair of rubber gloves and remove as much of poop and debris as possible from the carpet.
Once the bulk of the mess has been removed you can get down to addressing the stain and odor. Spray a high-quality carpet cleaner on the area and let it sit for a few minutes. Vacuum or wipe the area clean and remove all traces of the cleaning liquid to get your carpet look fresh and clean again.
A few things to keep in mind are that you should not saturate the carpet with the cleaning liquid or water. Excess moisture will do more harm than good, and a damp carpet is a powerful mold-magnet. Also, never scrub or rub in stains deeper into the carpet because it will affect the underlying padding and sub-floor, soiling the carpet further.
Groom Your Pet Regularly
Ensure that you bathe and groom your pet regularly. Bathe your dog at least once every month and brush him at least once every week. This will reduce shedding drastically and will help keep your carpets clean.
Despite the best efforts, there will still be pet dander, body oils, and dirt in the carpet. Vacuum thoroughly every day to remove loose hair and other debris. The regular vacuum also removes dead skin cells, dust mites, fungi, carpet beetles, ticks and fleas. Trapped dust particles act as tiny razors and gnaw away at carpet fibers causing long-term and irreversible damage to your carpet. A clean carpet is not only great to look at but is also healthy for your pets.
Keep a Stain-Removal Kit Handy
Pet accidents happen without warning, so it will be a wise move to keep an emergency stain-removal kit handy.
Pet stain cleaners, odor extinguishers, disinfectant wipes and a generous supply of super-absorbent paper towels are must-have items in the kit. White vinegar, hydrogen peroxide, and baking soda are strong stain extractors which you can use on their own or in recommended combinations. Enzyme cleaners also work well on pet stains and can break down the proteins present in pet waste to remove them completely. You can even make a powerful citrus-enzyme cleaner at home.
Make sure you test cleaning products for color-fastness on a small/unnoticeable part of your carpet before using them.
Deep Clean Carpets Regularly
There is nothing that beats professional carpet cleaning. It sanitises, freshens and beautifies your carpet like no other cleaning method.
Professional carpet cleaners, who are certified and licensed, are your best bet to give the best treatment to your carpets. No doubt, you can rent a steam cleaner and do a DIY, but professional cleaners have the experience, knowledge, and equipment required to do a thorough job.
A DIY or amateur job will leave your carpet moist, damp and vulnerable to mold and fungi infestation. A professional cleaner will dry your carpet thoroughly making it fresh, clean and safe.
The best thing about professional carpet cleaning services is that you have the option to go for additional pet-resistant treatment services that will ensure future protection and safety for your carpet from pet stains and odors. Specialized treatments offer moisture barriers that will prevent accidents from seeping into the padding and subfloor.
Experts recommend that you have your carpets professionally cleaned after wet, summer and winter seasons. Ensure that your cleaner uses pet-safe products and also check whether there are any precautions you need to take with freshly cleaned carpets.
Conclusion
It is not impossible to maintain lovely carpets if you have pets at home. Timely attention to accidents, daily vacuum, and regular professional cleaning will make sure your carpets remain fresh and clean for a long time to come.
Engage the Best Professional Carpet Cleaning Service in Singapore
---
We are available 24/7. Contact us now to get a free quote!