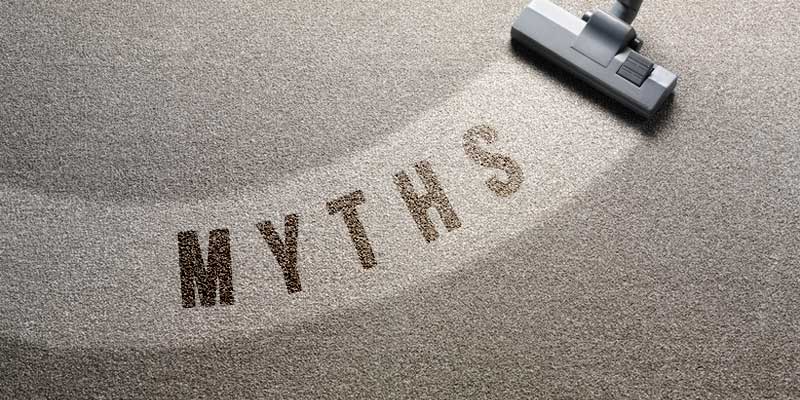 Professional carpet cleaning is expensive and often considered a necessary evil. Most of us put off calling the professionals for as long as possible. And then there are the very many myths and misconceptions surrounding professional carpet cleaning.
Carpets are not cheap, and you have spent much time and effort choosing the right one for your home. Timely and expert cleaning of carpets ensures the safety of your investment, the health of your family, and also the beauty of your home décor.
Carpets last for generations, and the only enemy threatening their loveliness and longevity is your neglect. If left uncared for, the texture deteriorates, the color fades, the routine wear and tear worsens, and you no longer enjoy your carpet anymore.
Don't let this happen to one of the most beautiful investments you have made in your home.
It's time to bust some carpet maintenance myths!
Carpet Cleaning Will Make Your New Carpet Look Old
Quality professional cleaning will never affect the look of your new carpet adversely. On the other hand, if you allow dust, dirt, lint, and other particles to accumulate on your carpet, they will act as tiny razors and cause damaging friction. Over time, this will break the carpet fibers and affect the structural integrity of the carpet.
So, to avoid long-term damage, you need to clean your new carpet within the first year itself. If you wait for the dirt and the grime to show, the damage caused will be irreversible.
Professional Cleaning Causes Your Carpet to Shrink
This is one of the most popular myths surrounding carpet cleaning. In the earlier days, carpets used to be made from 100% natural materials. They were, in a way, very similar to the pure cotton or linen dress you have. In such cases, there used to be a slight shrinkage when the carpet was soaked in water and cleaned.
But today with advanced technology, professionals are very well aware of how to handle such fibers. Also, today most carpets have a synthetic blend which makes shrinkage almost impossible.
The carpet may appear smaller or the fibers may appear caked if the carpet is not dried well. So, when the cleaners bring your carpet home, check that it is dry and not extra-heavy due to moisture. Improper and partial drying harms the texture and the quality of carpet fibers.
Frequent Vacuuming Damages Your Carpet
We worry that frequent vacuuming will pull at the carpet fibers and loosen the pile and the weave. Carpet fluff in the waste bins of vacuum cleaners alarms us.
But the fact is that embedded dirt and dust do more harm than any amount of vacuuming can possibly do. As mentioned earlier, they have abrasive properties and break down the pile underneath the fibers.
Dust and dirt also act as a breeding ground for dust mites and other allergens. It is, therefore, best to vacuum as frequently as possible for a healthy, safe, and beautiful carpet.
Cleaned Carpets Soil Quickly and Easily
This is a myth born in the earlier days when the cleaning agents used would be mainly soaps that contained coconut oil. When the carpets were not cleaned properly, soap residue left behind would act as a magnet for grime. As a result, carpets would get soiled easily.
The synthetic detergents used today to wash off more easily. Quality cleaners ensure that all soap is washed off. This keeps your carpets clean and fresh for long.
Carpet Cleaning Destroys Soil- and Stain-Resistant Treatment
Carpet cleaning does not affect the soil- and stain-resistant treatment of your carpet. The resistance wears off naturally in high-traffic areas. The protective treatment should be reapplied every three cleanings. If you clean your carpet less often, say once in two years, you will require a stain-, fungal- and soil-resistant treatment after every cleaning. Professional cleaning techniques reinforce the resistance power of the treatment by deep cleaning all the residual stains and dirt from the carpet.
You Can Effectively Clean Your Carpet Yourself
Most homeowners use rented or store-bought extractors for deep cleaning their carpets. But the suction power of these machines can never match the brute industrial strength of the equipment used by professional cleaning agencies.
Improper extraction leaves your carpet damp. This is an open invitation to mold and mildew to seek residence in your carpet. As a result, even after the effort you put in, your carpet is unhealthy and unclean. Professional cleaners clean your carpet thoroughly, and dry it out completely and evenly.
Steam Cleaning Will Ruin Your Carpet
Steam cleaning is thorough and effective and strips your carpet of harmful dust mites, fungi, dust, dirt, and other allergens. When hot water is sprayed at high pressure on your carpet, the deeply embedded grime is dislodged, and microorganisms and other allergens are destroyed.
Powerful extractors remove the dirty water from your carpet, leaving it fresh and new.
The high temperature of the water used in steam cleaning does not harm the carpet fibers. Hot water along with the detergent and proper agitation effectively cleans and sanitizes your carpet.
Choosing the Cheapest Service Because All Cleaners Are the Same
Nothing could be further from the truth. Reputed cleaners have experience, knowledge, and proven results to speak for them. They will command a higher price than the lesser-known services.
You can rest assured the established cleaners will choose suitable cleaning methods and products, apply quality soil- and stain-resistant treatment, and have monitored and controlled cleaning processes from start to finish. This ensures you are more than happy with the result.
Reputed cleaners also offer guarantee for their work. If any stains or spots reappear, or any other problem arises, you will get immediate remedial action in the guarantee period.
All this does not always hold in the case of lesser-known professional cleaners.
Conclusion
Carpets are an essential part of your home décor. They add charm and character to your interiors. Do not let baseless myths spoil them. With proper care and maintenance, your favorite carpet will last you a lifetime.
Engage our Professional Carpet Cleaning Services in Singapore
---
We are available 24/7. Contact us now to get a free quote!