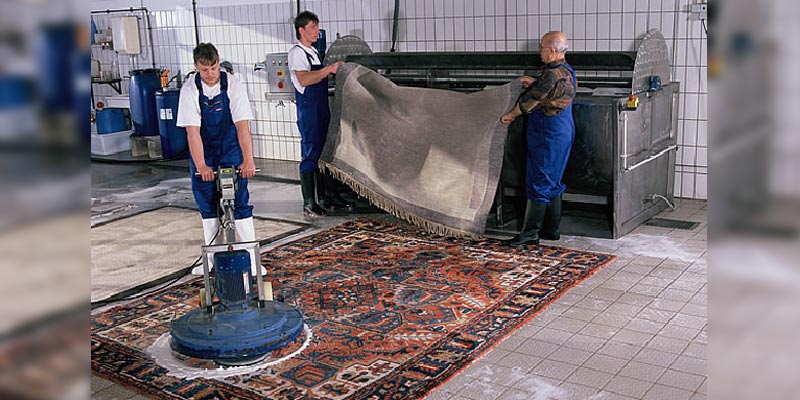 The beautiful wool carpet and that lovely couch in the living room are your most-loved treasures. You may have spent a fortune on these possessions, but when they rest in a domestic environment, tell-tale signs of damage are bound to show up in no time.
Children and dogs leave their mark on everything in the home. The upholstery and the carpeting also bear the brunt of fluffy paws and sticky little hands. But these are beatings of a less dangerous variety.
Carpets and upholstery also trap dust, dirt, and other pollutants coming into your home. In addition to that, they are also home to harmful chemicals circulating in the indoor air, pet dander, dead skin flakes, dust mites and numerous other microorganisms.
Plenty of studies and research have been conducted into how indoor air quality affects the health of residents, especially children. Trapped dirt and allergens cause diseases and other infections.
Professional cleaning helps sanitize the dirty carpeting and upholstery in your home. There are other benefits as well for opting for professional services.
Certified Services
Reliable professional carpet cleaners are industry-certified. Institute of Inspection, Cleaning, and Restoration Certification is a non-profit body that verifies the cleaning techniques and the qualifications of cleaners. It also checks the authenticity of the credentials of the service providers. If you employ the services of an IICRC-certified professional cleaning agency, you can be sure about the quality of the services provided.
Several high-end carpets that come with 20-year warranties demand IICRC-certified cleaning processes so as not to render the extended warranty null and void.
High-Quality Cleaning Products Used
Certified cleaners use high-quality cleaning agents. Unprofessional services use detergents that do not work well on new-generation carpets. The carpets and upholstery of today are given specialized protective treatment, which has a negative charge. This essentially dissuades dust particles from sticking to the fibers on the carpets and the upholstery.
The ordinary cationic (positive charge) detergent negates the cost on your protected carpet and upholstery and makes them more susceptible to gathering dust.
Certified cleaners use ionized detergents that not only deep clean but also maintain the negative charge on the surfaces of carpets and furniture.
Apt Cleaning Techniques
Certified and reputed professionals use scientific cleaning methods. Steam cleaning is recommended for most high-quality carpets. The thorough and deep cleaning process not only removes dust and dirt but also kills dust mites and other toxic microorganisms.
If you are planning to purchase or rent a cleaning unit, there are several things you need to be careful about. If you use more of the cleaning solution than recommended, there will be too much foam which will make proper suction all the more difficult.
Also, it is impossible to attain the high temperatures generated in professional steam cleaning.
Professional cleaners use very powerful machines for steam cleaning. The temperatures of water range from 82 degrees C to 121 degrees C. The heat not only kills mites, mold and fungus but also dislodges the embedded dirt and stains from the carpet and upholstery. The cutting-edge technology used by the best cleaners in Singapore employs water softening units that ensure fewer minerals and suds are left behind after extraction.
Another advantage is that the high temperature ensures the water evaporates quickly and your carpet dries faster.
Strong and Powerful Equipment
The equipment and machinery used by professional cleaners are powerful and effective.
While using home cleaning units the weak suction power plays havoc with carpet and upholstery. The rental machine does well to put in plenty of soapy water into the carpet and upholstery but does a poor job of retrieving it. If the residue is left behind, it acts as a dirt magnet, and in no time your carpet will be dirty and filthy again.
The trapped moisture also leads to a rapid build-up of mold and fungus. The extractors used by professionals remove all water and soap residue from the carpet. This helps your sofa and rug to dry quickly, and you are left with a clean, fresh and fragrant home.
The combination of excellent cleaning techniques and quality equipment ensures the longevity of the carpets and the upholstery.
Non-Professional Cleaning Renders Subsequent Cleaning Ineffective
As stated earlier, home units and untrained cleaners do long-term damage to your carpets.
Stains and spots need to be extracted by efficient cleaning. If the extractors used are not good enough, stains will be left behind. The stains may also contain sugars, salt, and other ingredients. They act as dirt magnets, eventually making the stains appear worse.
In some cases, repeated cleaning pushes the stains into the carpet padding, and embeds it deeply. These stains are almost impossible to remove by further cleaning. Improper cleaning techniques can damage your carpet forever.
Professional cleaners gently but firmly extract the stains from the fibres and prevent them from spreading deep.
Over-the-Counter Cleaning Solutions Are Not Trustworthy
Store-bought cleaning solutions recommend a similar formula to cure all kinds of stains and spots. But each stain is unique and affects your carpet and sofa differently.
OTC cleaning products contain bleaching and reducing agents who do rid your carpet of the stains but in the process also cause a lot of damage to it. These chemicals affect the dye, the fiber and the texture of the carpet and the upholstery.
Professional Cleaners Have Experience and Knowledge
Every carpet and piece of furniture is unique, with its own specific needs.
Certified carpet cleaning and upholstery cleaning professionals are aware of the different types of fibers, materials, and makes of carpets and upholstery. They will be able to determine suitable kinds of cleaning agents and techniques that your carpets and furniture may need.
Professionals Vouch for Their Work
Reputed professional cleaners offer a guarantee for their work. This enables you to avail of remedial services if you spot any problem in the guarantee period. Spots and stains hardly reappear, but if they do, the professional carpet cleaners will help you get rid of them once and forever.
Conclusion
Carpets and furniture define the décor of your home. Always choose reputed and certified professional cleaners to ensure the long life and safety of your investment.
Engage the Best Professional Carpet Cleaning Service in Singapore
---
We are available 24/7. Contact us now to get a free quote!